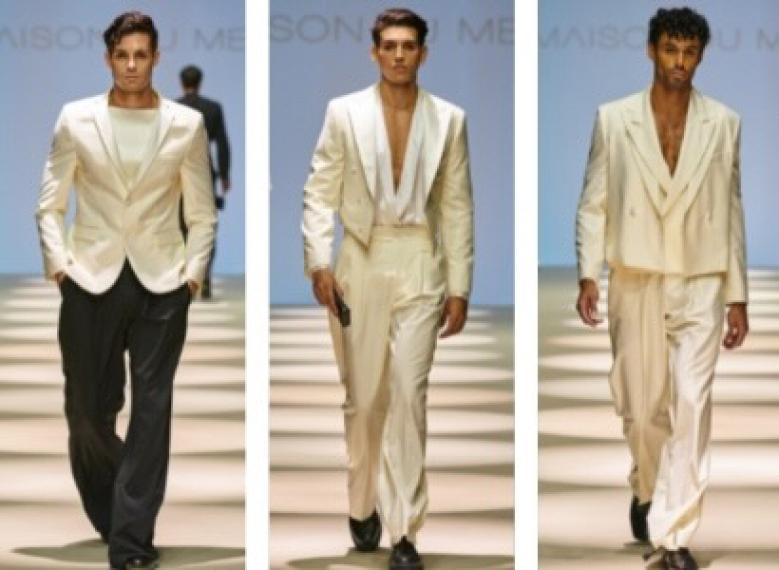 Rêverie Maison Du Mec Runway SS23
Rêverie
Maison Du Mec SS23 | PRESS RELEASE
Be it the weekend getaway we get to sneak in every couple of months, or that
occasional one-week exotic island vacation less and less people can afford, Modern
Life reduces our down time pleasures to a few fleeting moments.
Le Mec, an eternal modernist, doesn't abide by Modern Life's terms and conditions;
instead, he seeks to make his own.
4 years ago, Maison du Mec started with minimal black and white poplin shirts and a
dogmatic tag line. The phrase "New Dreams Every Day" graced every label – and still
does – for a reason.
As the whole future wallows in uncertainty, Le Mec will not wait for the weekend or the
summer to pursue his pleasures: He's wide awake in his daydreams, and basks in the
liberties that come with them – daily!
For Spring Summer 2023, Maison du Mec undertake the dare of subverting the tension
between conventional realities and irrational aspirations.
The season's offerings are elaborated as double agents between the effortless and the
engineered, the glamorous and the understated, reevaluating the summer wardrobe
stereotypes we all casually entertain.
Getaway affluence trickles into the quotidian: Le Mec is a gladiator and a corporate
force at once, and the thrill of recreation is reclaimed from the heart of the office and
the seaside of Cap-d'Ail alike.
Aptly, distance is collapsed between east and west, and styles are anachronistically
matched across eras to promote an atemporal ease which transcends space and time.
Tropical prints and Mediterranean codes are abstracted in Broderie Anglaise fabrics
and saturated hues to sustain beyond a single season's whim, and the brand's
signatures are narrated on new surfaces by means of dynamic collaborations with local
craftsmen and the new age technology of Swiss brand Ferronato.
Fashion is and always will be the ultimate escapist vehicle. With one foot in the 60s
French Riviera, and another in a dismantled republic, we found a new democracy in the
illusions of escapism to keep us going – a way to look around instead of just looking
back and forth.
For us, it's as a-political as it gets, but you may take it as you will –
#Rêverie
#NewDreamsEveryDay
For further information:
+961 78 805 894
press@maisondumec.com